Jamie Buehner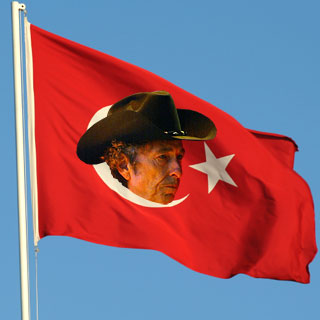 Even though he does have Turkish origins (his paternal grandmother's family comes from eastern Turkey), I was more than a little nervous before Bob Dylan's June 20th Istanbul show.
Fans were already at fever pitch the preceding week — not everyone makes it to Turkey to perform — yet Dylan is not known as being the most "crowd-pleasing" of performers, and his tickets at Black Box weren't cheap. Yet we waited outside the beautiful venue in the plush grass sipping overpriced beers, wishing we'd stocked up on at the tekel and wondering which Dylan would take the stage.
In 1964, when he was being discriminated against because of his "shabby" appearance, he wrote a song called "When the Ship Comes In" imagining what would happen to the class divide if things evened out a little bit: And the sands will roll/Out a carpet of gold/for your weary toes to be a-touchin'/And the ship's wise men/will remind you once again/That the whole wide world is wa-tching.
But the world, these days, seems not only not to be watching but taking our attention away from it — which is maybe the only way we can be (i.e., distracted); the only way we can remain optimistic. And yet, this outlook seems defeatist and wrong, not at all in the correct spirit of any times, to say nothing of the times people would still, fifty years after he wrote those words, love to see change.
So what does he do? He opens with a raucous, bluesy (not They Are A-Changin' but) Things Have Changed. Yes, they have changed: not always for the better, but absolutely correct. We scooted to our seats. This was to be a true Dylan show.
She Belongs To Me's She's got everything she needs/she's an artist/she don't look back followed that song. for that moment, of that night, we did/we were/we didn't…and the world was.
Jamie Lynn Buehner lives on a small island outside Istanbul, where she teaches English at a private university.