The Black Sea is a dining institution on Snelling Avenue filled with memories. There was the time the owner's wife told me I was beautiful. And there was that fateful day when the owner said the only words that he ever spoke to me, "We aren't making tabbouleh anymore." While things do change at the Black Sea—like the gyros suddenly being called "doner," the lack of tabbouleh and the sweet couple passing the business down to the younger generation—one thing is for certain, you'll always leave feeling satisfied. Your stomach will be filled and your mind will make room for another memory.
When first you walk into the Black Sea the first impression is that it's not much to look at. There are about 10 tables, separated by hippie-like string curtains, an average-sized tv on the wall, an exposed kitchen and a single person restroom, but what more do you need?
Despite the slight menu changes, some of the original staples have survived like the Meze Platter. The Meze is an appetizer that features homemade hummus, kalamata olives, exceptional chunks of feta cheese, grape leaves and falafel on a nest of delicious greens, onions, tomatoes, fresh lemon slices and of course, pita bread. The platter is ordered as per how many people will partake. During my still-a-vegetarian years, I often ordered the Meze for two and a Turkish salad and left completely stuffed. Whether you are a vegetarian or not, it's fun to take a tiny slab of pita bread and construct a mountain a-top it with the ingredients in this dish.
I've been to the Black Sea with many different people, but this time I brought my boyfriend. Normally he eats like a chubby 5-year-old on a binge—Poptarts, Reese's cereal and Kraft singles are his daily food groups. When we eat out he orders burgers or steak with ketchup, but when we arrived today he said, "I want that falafel." After a few more minutes of ordering deliberation he said, "Wait, that falafel stuff isn't meat?" He decided on the Black Sea Mixed Doner, sandwich instead, which is a pita filled with chicken, beef and lamb meat.
When the doner arrived meat was pouring out of it. I plucked out meaty morsels and as I devoured them I started to hate myself for ever having had still-a-vegetarian years. It wasn't only the mixture of meats that delighted my palate, but the spices used to cook the meat and the fact that my boyfriend could not figure out how to pick it up. You know a sandwich is good when it defeats a 6'6" man.
After I used up half the bottle of tzatzki sauce that still comes along with every meal, I cleaned up the rest of my plate and asked the young man in charge what sort of lettuce they used. "I don't know," he said with a smile. His ignorance didn't strike me as neglectful of the business, but friendly and kind and most of all, honest. These qualities reminded me why I always come back, while the waitstaff and those in the kitchen area may not say much, they are good people and again, what more do you need? We paid our check and walked past the other diners, and for the first time during our visit I realized that the place was full despite it being the mid-afternoon. As we walked past the threshold I already was planning my next visit and filing away in my mind this visit as, "The time Josh thought falafel was meat."
Later we were visiting with friends who live nearby. When one of them had asked where we ate lunch I had told them the Black Sea. "I heard it's not as good now that Ali and his wife passed it on to their nephews," my friend said. I responded from my blissfully full state on the couch, "It's just as good as it's always been."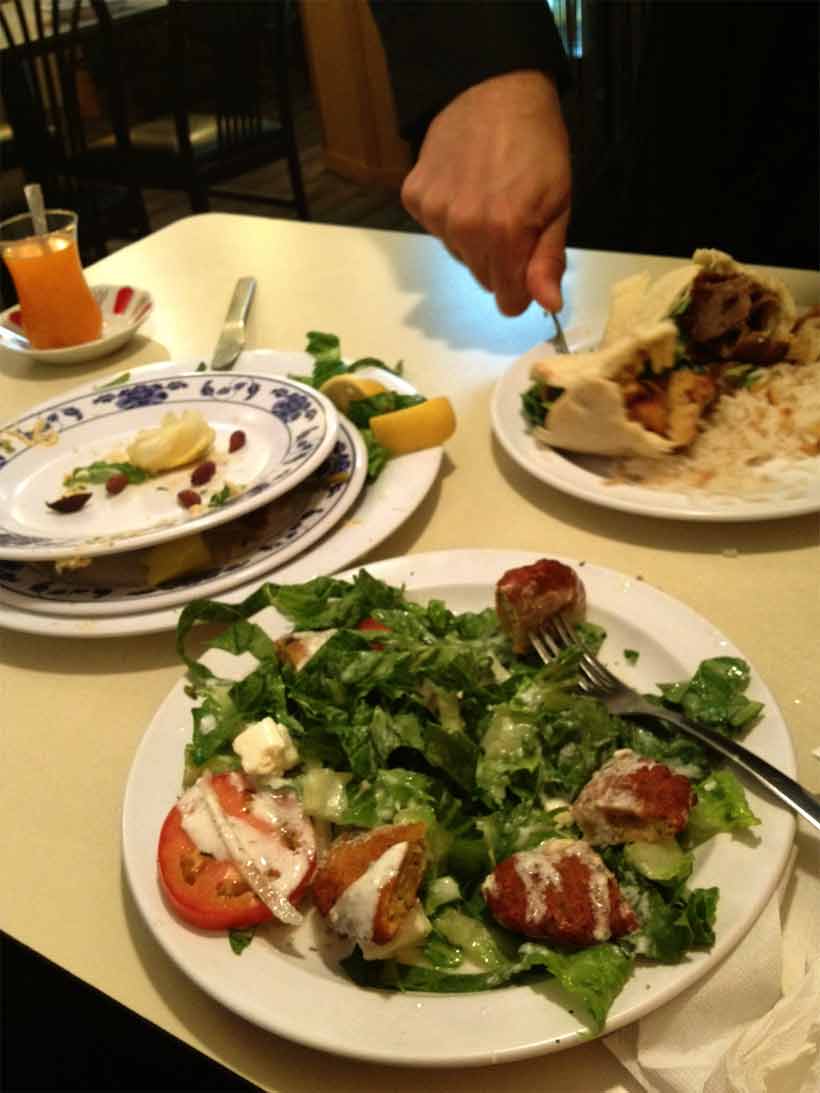 The Black Sea in St. Paul is open:
Monday through Saturday from 11 a.m. to 9 p.m.
www.blacksearestaurant.com
Other items of delicious note not mentioned above include:

Spinach Borek
Kebabs
Dolmas
Baklava
Emily Urness earned an MFA in Creative Writing from the University of British Columbia (2011). She has taught writing at various locations in Minnesota including at the Loft Literary Center. She has also worked as an editorial staff member for literary journals. Currently, she works as an editor. She writes an intermittent humor column on women's issues for Your Box Club. Her chapbook Self Help Attempts was published by Red Bird Chapbooks (2013). She is gearing up to shop around her first full-length memoir. And, she was recently awarded a McKnight Established Artist grant and is a finalist for the 2013-2014 Loft Mentorship Series. Find her at emilyurness.com.