Summer Wind in Autumn
So Much Like a Beach After All
Chasing the Harvest Moon
Lifted the long hair of weary mothers,
Turned the carpenter and his sawdust
Into a storm of work and beauty,
Knocked some babies from their strollers
But those babies were all right.
Summer wind had his set of memories,
Tarnished, rusted, gold and silver, too.
The martyrs framed in windows
Wept and bled for all of us,
But summer wind carried the tears,
The blood, the reasons, off to the kingdom
Of weather without meaning.
So Much Like a Beach After All
Turn the alley sideways, running north to south.
Remove the houses on the south side of the alley.
Remove the years of cobblestones, tar, small stones.
See for quite a distance, knowing the water
Is just out of sight. Take a chair to the alley
Which is no longer an alley but a strip
Of ancient beach which your beautiful imagination
Has made. Sit in your chair and listen
For the waves.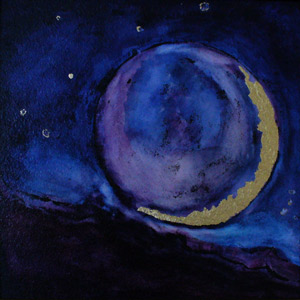 sk
Started out in twilight, almost
A fairy take rendition, started out
At early twilight to find the edge
Of the world before the moon
Rose. Started off mid-twilight,
A last thought before embarking.
No provisions, went to find
Horizon not troubled by
Trees and houses, skyscrapers
Or light. Started off late twilight,
In the middle of the country, on
A warm evening, driven by
Faith in gold, faith in circles,
Faith in a line without flaw.
We were in love, and late, as
The story goes, and remarkable,
Sooty clouds obscured and wrapped
Our harvest moon which finally
Emerged, dime-like and glinting
As we drove in looping circles
At the outskirts of the city
Fellow citizens traveling the roads
With us, moon lust, moon sick,
Moon hopeful lovers and friends.
"Summer Wind in Autumn" and "So Much Like a Beach After All" are reprinted from Kingdoms, 2006, The Laurel Poetry Collection. "Chasing the Harvest Moon" is reprinted with permission from the author.